14
авг 2012
Soundprovocation Vocalotheque MULTiFORMAT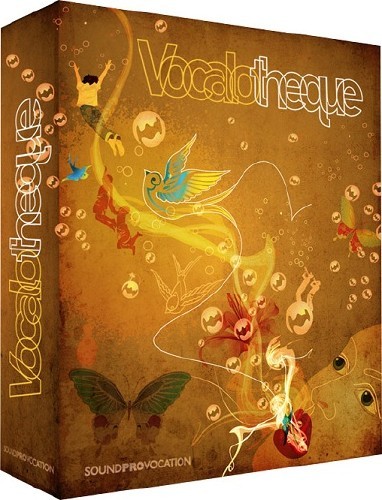 VOCALOTHEQUE
представляет собой образец инструмента, из записанных образцов вокального ансамбля (5 мужчин и 5 женщин). Нашей главной целью было сделать инструмент, который был полон жизни и случайных обертонов.
"Vocalotheque" is made to sound more like voices of regular people than sterile, an overly polished academic choir. The voices we recorded are those of professionals and regular people that can really sing. This time we used our favourite way to recreate natural sound - a "round robin loops" of sampler groups: each note has 5 changing variations to enhance the feeling of natural singing that is never exactly the same. Main features: • 76 presets – 18 ensemble and 58 solo presets of different articulations. • Range – two octaves for each preset. Men – E2-E4, women – E3-E5). • Voices were recorded in a studio, keeping the sound pure. You can add your favourite reverb, other preferred effects or use pre-configured KONTAKT effects. • Library contains 9500 samples (24 bit 44100 Hz .aiff). Uncompressed size is 6.52 GB. • Dedicated to creative music and soundtrack producers, who need to add vocals with "public" character to their compositions. Available formats: EXS24 and KONTAKT
Год:
2012
Размер:
4.61GB
Скачать Soundprovocation Vocalotheque MULTiFORMAT
- -- -
ПОКАЗОВ : 1854
Самые ожидаемые игры 2018 - 2019
Android: качай платные приложения бесплатно
Apple: качай все бесплатно
Программы похожие на Soundprovocation Vocalotheque MULTiFORMAT
Zero G Degrees Of Abstract MULTIFORMAT DVDR (Repost)
Zero G Degrees Of Abstract MULTIFORMAT DVDR (Repost) | 2.98 GB Welcome to Degrees of Abstract – 2Gb of sounds that take you on a panoramic journey into a fantastic world of sound never taken before. Get ready to enter a whole new soundscape of weirdness, innovation and mind-opening inspiration. Some elements you discover on the way may sound famili...
iZotope Nectar VST VST3 RTAS 1.10 x86 x64
iZotope Nectar VST VST3 RTAS 1.10 x86 x64 | 20 MB Nectar is a complete set of 11 vocal production effects combined in one plugin thats designed to give you immediate results. Builtin Styles get the grunt work out of the way so you can focus on the creative finishing touches. Features include automatic pitch correction, manual note editor, breath co...
Loopmasters Dan Berkson and James What - Deep Electronic House
Loopmasters рады представить потрясающие коллекции образцов озаглавленные "Deep Electronic House» от уважаемых производителей дуэта Berkson & What.
Puremagnetik Micropak Onda Multiformat
Puremagnetik Micropak Onda Multiformat Mac OS X & Win app| 1.02 GB Six programs designed in Kyma as expressive multisampled instruments from cross synthesized materials and resonators. Onda is an expressive collection of instruments created by cross synthesizing various materials and resonanting bodies. What if you could pluck a water bottle Or blo...
Overloud Plugins PACK 13.8.2012-R2R
Overloud.VKFX.v2.2.12-R2R Overloud.BREVERB.2.v2.0.8-R2R Overloud.TH2.v2.2.3-R2R Overloud.SpringAge.v1.0.8-R2R Overloud.Mark.Studio.2.v2.0.3-R2R
Big Fish Audio Elemental Drum & Bass Vol.1 MULTiFORMAT
Welcome to a unique sound collection for the discerning drum & bass producer, created by master engineer and electronic music pioneer Jamie Myerson. With a full palette of 100% original and new breakbeats, basses, synths, effects and acoustic instruments, this collection is sure to breathe new life into your productions. Both sensual and scientific...
Equinox Sounds Trance Overload Multiformat DVDR
Equinox Sounds Trance Overload Multiformat DVDR | 884 MB Trance Overload is a 1.5 GB collection from Equinox Sounds that contains loops, samples and Construction Kits for producing Trance styles like PsyTrance, Goa, Melodic Trance, Euro Trance and more... Includes WAV, Apple Loops and REX2 formats. Trance Overload features over 1.5 GB of Trance loo...
Рекомендуем обратить внимание