30
июл 2012
Producer Loops Supalife Dynamite Dirty South Vol 2-UGET [DJ Vagan]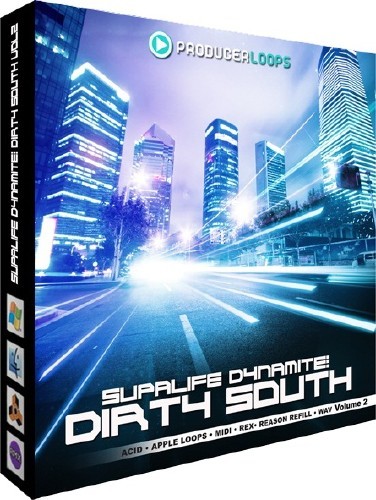 'Supalife Dynamite: Dirty South Vol 2' from DJ Khalid and Supalife Records brings you TEN deeply dark and dirty essential Construction Kits designed to give your Dirty South and Hip Hop productions all of the elements you need to create hot, club-smashing hits
These multi-format Kits are recorded at 80 BPM, include MIDI for all melodic parts and are Royalty-Free, ready to drop into your productions.
Mix and match these kits in any number of ways to create pumping, body-grinding, memorable productions. All of the instrumentation you'd expect to find in Dirty South dance floor fillers is here, including:
• Bass lines
• Drum and percussion loops
• Piano/keyboard phrases
• Synth and pad loops
• Strings
• Brass
'Supalife Dynamite: Dirty South Vol 2' serves up some of the highest quality urban material ever assembled and, as you've come to expect from Producer Loops' products, wet and dry loops and MIDI files are provided for ultimate flexibility.
These kits are phat, fresh-sounding, and raw in the inimitable style of internationally renowned artist and DJ, Khalid Filali (aka DJ Khalid) and professionally arranged, mixed and mastered by Supalife's Eddy Beneteau.
About the Producer:
DJ Khalid has taken the urban world by storm over recent years, with numerous appearances alongside famous DJs and international acts, including Kid Koala, DJ Vadim, The Herbaliser, DJ Hype, Coldcut, Gonzales and Amon Tobin.
Among his many accolades, DJ Khalid was awarded 8th place in the DMC World Championships in London in 2000, and more recently, his track "H-Kayne" is included in the Hollywood movie "Body of Lies" which features Leonardo Dicaprio (2007).
Widely regarded as one of the most talented scratchers of his generation, Khalid has produced countless tracks and even commercial campaigns for multi-national giants, including Danone and Coca-Cola.
He is currently working alongside world-famous New York group "De La Soul" on a brand new album scheduled for release in early 2012.
DJ Khalid & Supalife Records:
Khalid's latest endeavours include a collaboration with Supalife Records to produce a stunning collection of urban sample packs exclusively for the "Producer Loops" label, so you can expect to see a whole lot more ultra high-quality Dirty South beats here in the near future.
Key and Tempo Tagging:
As with all Producer Loops products, the files in this pack include tempo and key information in the filename (as well as embedded within the format) so you can see them at a glance. This is very useful for fast integration with your existing projects.
About MIDI Files:
For producers demanding MIDI loops, we've got you covered! 'Supalife Dynamite: Dirty South Vol 2' includes 324 MIDI files (across all kits) that will give you access to the raw musical data, allowing you to assign your favourite drum and synth sounds to them.
Release Loops:
Certain loops include 'Release' or 'Unlooped' versions of the loops, allowing you to end a sustained or heavily effected musical phrases with ease. Dry versions are also provided so you can add your own FX, as required.
One-Shot Samples:
Over 150 outstanding one-shot samples are included (across all five kits) featuring both drum and synth samples, allowing you to create your own sampler patches to use alongside the included musical content. Ranging from drums to pads, basses and lead sounds, you'll find plenty here to augment this stunning set of Construction Kits.
Royalty-Free:
All the loops and samples in this pack are licensed to you, for use within both personal and commercial compositions at no extra cost, with no exceptions.
FORMATS:
Acid Loops, MIDI, REX/RMX, WAV
GENRES:
Dirty South,Hip Hop
Installation:
1)Uncompress File with WinRar
2)Enjoy this release!
Год:
2012
Размер:
964.87 Mb
Скачать Producer Loops Supalife Dynamite Dirty South Vol 2-UGET [DJ Vagan]
- -- -
ПОКАЗОВ : 972
Самые ожидаемые игры 2018 - 2019
Android: качай платные приложения бесплатно
Apple: качай все бесплатно
Программы похожие на Producer Loops Supalife Dynamite Dirty South Vol 2-UGET [DJ Vagan]
Nova Loops Jerk Mania WAV
Nova Loops Jerk Mania WAV | 1.26GB
P5Audio Dirty South Arpeggios WAV
P5Audio Dirty South Arpeggios WAV | 307 MB Dirty South Arpeggios contains no less than 25 multi-track construction loop sets, with 10 parts each totaling 250 individual music loops which you can mix and match to create endless combinations. We have separated all of the parts including kick, snare, hi hat, percussion, fx, bass, keys, synths, arpeggi...
P5Audio Blazin Brass and Strings Vol. 1 WAV
P5Audio Blazin Brass and Strings Vol. 1 WAV | 156 MB P5 Audio is proud to present this construction loop Dirty South Arpeggios. This series is so sick, I'm sure somebody is gonna have the next smash hit from it.
Equinox Sounds Trance Overload Multiformat DVDR
Equinox Sounds Trance Overload Multiformat DVDR | 884 MB Trance Overload is a 1.5 GB collection from Equinox Sounds that contains loops, samples and Construction Kits for producing Trance styles like PsyTrance, Goa, Melodic Trance, Euro Trance and more... Includes WAV, Apple Loops and REX2 formats. Trance Overload features over 1.5 GB of Trance loo...
Loopmasters Dan Berkson and James What - Deep Electronic House
Loopmasters рады представить потрясающие коллекции образцов озаглавленные "Deep Electronic House» от уважаемых производителей дуэта Berkson & What.
P5Audio Thug State Eastside Loop Sets WAV
P5Audio Thug State Eastside Loop Sets WAV | 576MB Thug State Eastside' brings the unmistakable sound of urban Atlanta straight to your studio, with 20 multi-track construction kits in the style of Young Jeezy, Zaytoven, Gucci Mane and more. 313 unique individual loops are provided...all royalty free!. We've gone straight Eastside ATL with these joi...
Prime Loops Darkstep MULTiFORMAT
Пристегннуть ремни, надеть свинцовые ботинки и старайтесь держать потные руки ближе к себе: "Darkstep" здесь...
Рекомендуем обратить внимание