06
июн 2012
Windows XP Advanced Multiboot 32 in 1 10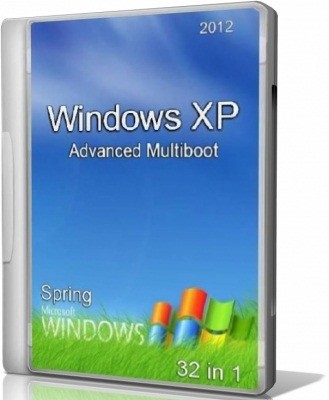 Это 32 диска в 1. Они устанавливаются на одном DVD благодаря упаковке со специальным приложением. Повторяющиеся файлы записываются только один раз, чтобы легко всё поместить.
Изменения по сравнению с последним релизом:
1) Updated Windows Updates through October 2011
Added KB2570947, KB2564958 (supersedes KB971513), KB2567053 (supersedes KB2555917), KB2592799 (supersedes KB2503665), KB2616676-v2 (supersedes KB2524375 & KB2607712 & KB2616676), KB2586448-IE8 (supersedes KB2559049-IE8), Microsoft Silverlight to v4.0.60831.0, Microsoft.NET_Framework 1.1 to v1.1.4322.2490, Microsoft.NET_Framework_3.5 to v3.5.30729.3644.4, Microsoft.NET_Framework_4.0 to v4.0.30319.239
2) Updated MRT to v4.1
3) Updated Adobe Flash Player ActiveX Control to v11.0.1.152
4) Updated Klite Mega to v7.8
5) Updated Adobe Reader to v10.1.1
6) Updated IMGBurn to v2.5.6.0
7) Updated driverpack MASS STORAGE to v11.08
8) Updated driverpack CHIPSET to v11.09
9) Updated driverpack LAN to v11.09
10) Updated driverpack MASSSTORAGE to v11.09
11) Updated driverpack WLAN to v11.09
12) Updated driverpack SOUND A to v11.08
13) Updated driverpack SOUND B to v 11.08
14) Removed MCE corporate since there is no such release
If you are installing Media Center or Tablet editions and plan to enter a key and activate later, you must enter a key for that version to get it to install at all. If not, you'll end up installing XP Pro. So these keys will work for you to get MCE and Tablet to install, but will not activate:
If you try using the above keys for Pro or Home and then comment here about how they don't work like some of the other downloaders have already, I promise to ridicule you for being an idiot.
Okay, here is the answer to the inevitable question, "What is the difference between these?"
First of all, only use Home with the intent of remaining legally licensed in the event you have a Home COA. If you have no license or just don't care, Pro is always better.
Use MCE if you have a PC with a TV tuner card and you want to record live TV, etc. Or again, if you have an MCE license.
Use Tablet with tablets, duh.
You must use the right channel build to ensure it will accept your license key. The 3 channel builds are OEM, retail and corporate.
OEM means Original Equipment Manufacturer. If your PC is Dell, HP, IBM, Sony, eg. any brand name system, the license will be OEM. OEM licenses are often purchased by system builders for custom built systems also. If your license is OEM, it should say so on the certificate of authenticity sticker on your PC case. Any OEM key found on a COA sticker can be used to activate an OEM channel build unless that key has been used to activate Windows a maximum number of times. If an OEM key is active on multiple systems, Microsoft can see that and may blacklist the key causing WGA to go off and Windows Updates to be blocked.
Retail is the channel build sold in retail stores. Only retail keys will activate retail builds.
Corporate is a channel build that uses a volume license intended for use in large corporations that require hundreds of PCs to be licensed. They use a single key to activate them all, but the volume license has a maximum number of PCs it can be used on. Corporate channel builds are often used with leaked volume license keys found online to pirate Windows. Such keys are inevitably blacklisted, causing WGA to go off and Windows Updates to be blocked.
Every single one of the 36 separate builds included on this disk contain Microsoft updates through October of 2011.
OEM system locked preinstall activation is used on all the OEM Advanced builds here. The keys used for activation are SLP royalty keys. They will only work for the OEM brand they were intended for, and they will not ever work to activate any version of Windows after it is installed.
A detailed list of supported OEM brands is listed at the bottom of this description.
The Attended with updates builds are untouched with the exception of MS updates. They should be used for doing repair installs or accessing recovery console. They contain no driver packs, text mode driver support,OEM preactivation, added programs or tweaks of any kind. They are as pure as the driven snow.
Далее:
Показать / Скрыть текст
Контрольные суммы
MD5 6A105E26ECE75A1C9F63CAB7A055DD4F
SHA-1 4258D04C22E9B21547C9DE571E6E211FAD1C08B8
Год:
2012
Язык:
английский
Таблетка:
присутствует
Размер:
3.34 Gb
Скачать Windows XP Advanced Multiboot 32 in 1 10
- -- -
ПОКАЗОВ : 807
Самые ожидаемые игры 2018 - 2019
Android: качай платные приложения бесплатно
Apple: качай все бесплатно
Программы похожие на Windows XP Advanced Multiboot 32 in 1 10
Windows XP Advanced Multiboot 32 in 1 Oct 2011
Windows XP Advanced Multiboot 32 in 1 Oct/2011
Windows XP Advanced Multiboot 32 in 1 12/2011
Это 32 диска в 1. Они устанавливается на одном DVD специальным приложением. Повторяющиеся файлы записываются только один раз, так что легко помещаются на DVD.
Microsofts Windows XP SP3 Corporate Student Edition September 2010
Windows XP SP3 Corporate Student Edition September 2010 Microsofts Windows XP SP3 Corporate Student Edition September 2010 | 659MB
Windows Ultimate workstation 2010
Windows Ultimate workstation 2010 Windows Ultimate workstation 2010 | 3.94 GB Genre: OS and system related
Windows Vista Alienware 2010 SP2 (x86) Original ISO
Windows Vista Alienware 2010 SP2 (x86) Original ISO Windows Vista Alienware 2010 SP2 (x86) Original ISO |3GB
Microsoft® Windows XP SP3 Corporate Student Edition November 2010 REV2
Microsoft® Windows XP SP3 Corporate Student Edition November 2010 REV2 Microsoft® Windows XP SP3 Corporate Student Edition November 2010 REV2[VLAD][PDU] || 691.125 MB (724,697,088 bytes)
Windows XP Professional SP3 - Black Edition 32-bit (2012.2.20/RUS)
Это оригинальный Windows XP Professional SP3 32-разрядный (Volume License) ISO от Microsoft с автоматической установкой. Включает в себя все официальные и некоторые неофициальные Windows XP Service Pack 3 обновления по 14.2.2012., более 200 Мб интегрированных драйверов для SATA / ACHI, LAN, WLAN и мониторов.
Microsoft Windows 7 ATI Edition 2010 (x86 and x64) DVD ISO
Microsoft Windows 7 ATI Edition 2010 (x86 and x64) DVD ISO Windows 7 ATI Edition 2010 (x86 and x64) | 4.04 GB
Windows XP Black PRO SP3 September 2011 (ENG+RUS)
Windows XP Black PRO SP3 September 2011 - это операционная система с автоматической установкой и обновлениями 2011.9.15. Интегрированы все драйвера SATA/ACHI, LAN, WLAN и Chipset. Система стопроцентно проходит проверку на валидность и может получать обновления с веб-сайта Microsoft.
AIO Colection OEM Laptop (52 OEM Brands) SATA Automatic Setup Driver
AIO Colection OEM Laptop (52 OEM Brands) SATA Automatic Setup Driver AIO Colection OEM Laptop (52 OEM Brands) SATA Automatic Setup Driver Size:1.93 GB
Windows Se7en Eternity Edition 2009 x86 and x64 DVD ISO
Windows Se7en Eternity Edition 2009 x86 and x64 DVD ISO Windows Se7en Eternity Edition 2009 x86 and x64 DVD ISO | 4.04 GB Genre: OS and system related
Microsoft Windows XP Professional SP3 Black Edition (2011.9.15/x32/ ENG+RUS ...
Microsoft Windows XP Professional SP3 Black Edition (2011.9.15/x32/ ENG+RUS MUI) - это операционная система с автоматической установкой и обновлениями 2011.9.15. Интегрированы все драйвера SATA/ACHI, LAN, WLAN и Chipset. Система полностью проходит проверку на валидность и может получать обновления с сайта Microsoft.
Windows 7 NVIDIA Edition 2010 (x86 and x64) By BEN Rockers Team
Windows 7 NVIDIA Edition 2010 (x86 and x64) By BEN Rockers Team Windows 7 NVIDIA Edition 2010 (x86 and x64) By BEN Rockers Team
Windows 7 PE x86/x64 Updated and Added Programs ENG/RUS 12/2010
Windows 7 PE x86/x64 Updated and Added Programs ENG/RUS 12/2010 Windows 7 PE x86/x64 Updated and Added Programs ENG/RUS 12/2010 | 1.7GB
Windows 7 NVIDIA Edition 2010 x86 and x64
Windows 7 NVIDIA Edition 2010 x86 and x64 Windows 7 NVIDIA Edition 2010 x86 and x64 | 4.04 GB Platform: Windows
Рекомендуем обратить внимание